Polyimide varnish "UPIA®" is a polyamic acid precursor solution of polyimide (High-performance engineering plastics). It is the base for polyimide coated films which feature non-soluble and non-melting properties, high heat, chemical resistance, and electric insulation properties achieved through high temperature curing and imidization.
Advantage of "UPIA
®

"

"UPIA®" was created from UBE's unique polyimide synthesis technology which delivers significant advantages.

Applications and usage

Seamless belts

High heat-resistant
wire coating materials

High heat-resistant coating
materials

The base material for flexible
solar cells
Heat-resistant paint

Anti-rust paint

Secondary battery

electrode binder

Coating material

Flexible device base

Touch panel base

TFT base
How to Use
Polyimide coating or film is created by applying varnish to various materials and then heating, which removes the solvent and completes the imidization reaction.

(1) Usage examples of polyimide coat
Direct polyimide coating creates a polyimide film applying varnish to various materials and then heat curing.
Ex: Wire coating, coating of metal parts
Polyimide coat obtained by applying to a metal plate, glass or other substrate, which, after heating,is released off and used as a polyimide film.
Ex: Seamless belt, Flexible device base
Polyimide varnish is used as a mixture with other chemicals.
Ex: Additives for paste or paint, binder resin
(2) Coating method examples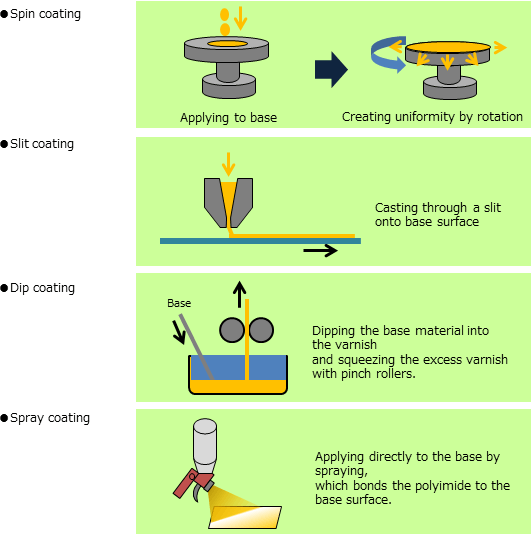 Proposed Application and grade
In order to satisfy our customers needs, we recommend the varnish grade which is optimized for the application and targeted end use characteristics. This is based on the many advantages of the standard grades of "UPIA®-AT (U-Varnish-A)"[Normal heat-resistant] and "UPIA®-ST (U-Varnish-S)"[High heat-resistant].